BEST GIFT FOR FAMILY AND FRIENDS 2022!

Share photos in a whole new way!
This 10.1" digital picture frame is featured with 1280*800 Resolution IPS touch screen which allows you to get a nice visual from any angle. Even at a glance, you can see the pictures clearly. The photo frame supports picture format by JPG/JPEG/BMP/PNG and video format by MP4.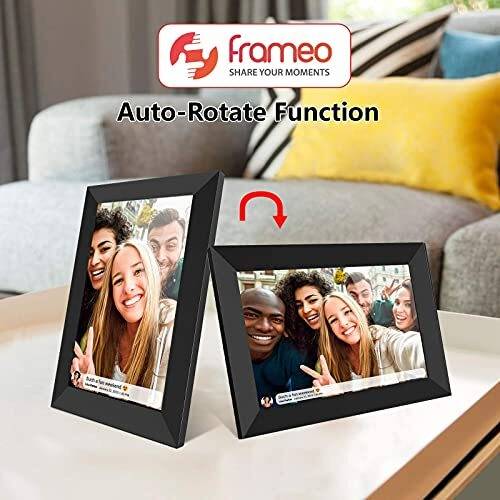 wifi digital picture frame can automatically rotate photos to adjust the direction, Come with a detachable holder as a frame stand, allowing you to view the photos in either portrait or landscape mode. Can be wall mounted. Multifunctional custom settings, such as play order, image zooming, hide/publish images, display caption, adjustable brightness, sleep mode, etc.
Frameo digital picture frame can receive photos and videos with WiFi (2.4GHZ) connected. And with the free App "Frameo"( it can be downloaded from Google Play and App Store)
The digital picture frame is not a traditional frame which can only display photos, it can also play lively videos with max.15 seconds! The videos support MP4 format and can only be sent from app "Frameo".
Built-in 16GB, Support Micro SD Card
Used for deep tissue such as joint palm and plantar, helps reduce stiffness, improves flexibility & boosts blood flow.
real reviews from our real customers
"I got this 10" FRAMEO and I love it! So easy to set up, I didn't need help LOL! Problem photos can be fixed on the touch screen and they can be deleted. A description of the photos can be added. It even plays short videos with sound! I just bought one for my bestie because she moved far from her family. I got mine because I'm a first time new Great-Grandma! I get photos of my "Great" every day!!"
"I really like this picture frame, and it is fairly easy to use. The picture quality is amazing! Pictures look nice and sharp and the frame can be turned vertically or horizontally.
All the settings are touch screen which makes it easy to navigate. You can import photos via usb, microSD, or wirelessly. Pictures have to be imported into the memory of the frame itself as opposed to older frames that run off the card itself."
" I already had one of these and I am giving this one to my daughter since trying to see small photos on a phone gets tiresome. The picture quality is great but the most amazing part is the app. It's so easy to send pictures to the frame and send the code to your friends and family to add pictures too. I am already thinking I need to get another one for myself since the one I have stays next to my wife's chair and is not allowed to be moved :) 5 Stars for a great product and for a change, a great APP to run it."
Douglas C. Meeks |
United States
Frequently Asked Questions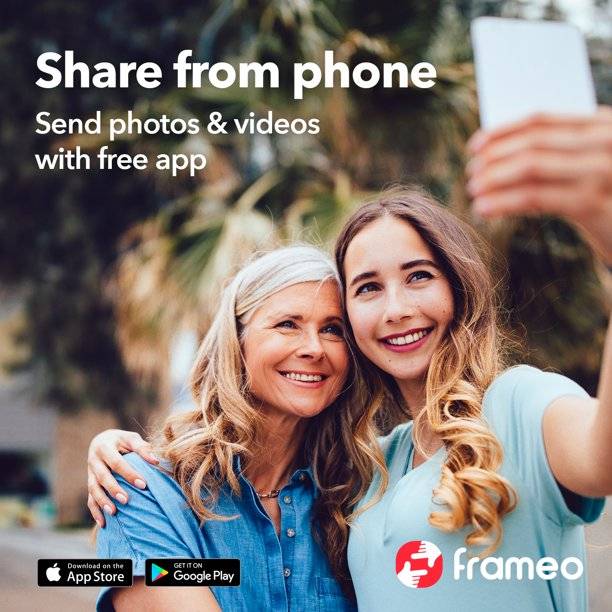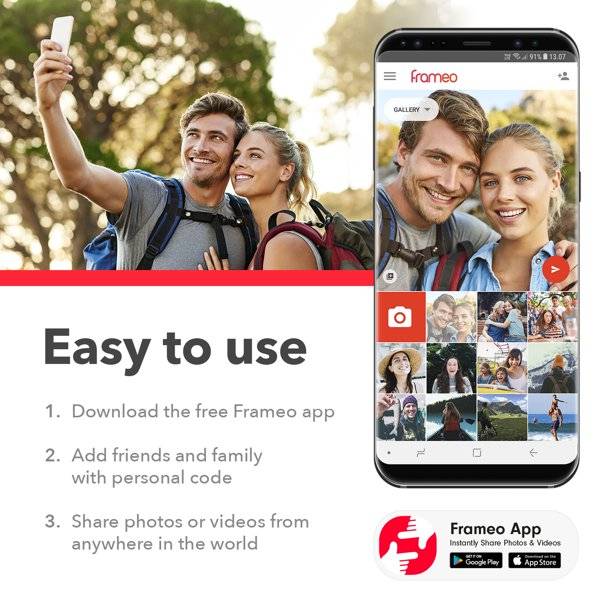 Where does it ship from? How long does it take?

It ships from USA, delivery time 3-5 business days.

Can I organize my photos in album and decide with albums are active and which are disabled?
Yes, you can set up in the photo frame, hide the photos you don't want to play.
Could upload a video from your phone to the photo frame?
Yes, you can upload max 15 seconds video to the photo frame.
Does the 2K version really matter if you only intend to use it for photos and not videos?
2K version will make your photo displayed on the photo frame more clear.
Can it be connected to a hotspot?
It can only connect to Wifi
Is it possible to increase the viewing time of photos?
Yes, You can set the slide playback time in the settings, the shortest interval of 10 seconds, the longest interval for 30 minutes, you can adjust it
Shipping Worldwide. We fulfill all your orders as quickly as possible.
Money Back & Quality Guarantee
Make safe purchases with our Payment Policy.