Free shipping order over $35!
Featuring RFID Card Holder Leather Case + Zipper Pocket with 360° all-round protection. It covers all corners, includes raised edges, Anti-dust, sand-proof phone case, keeps the screen protects from scratching. it has multiple slots for cards and cash.
Provide comfortable hand touch feeling
Upgraded anti-fall protective system
Provides optional griping method
Over 150,000 Happy Customers
30 Days Money-back guarantee

100% Secure Online Payment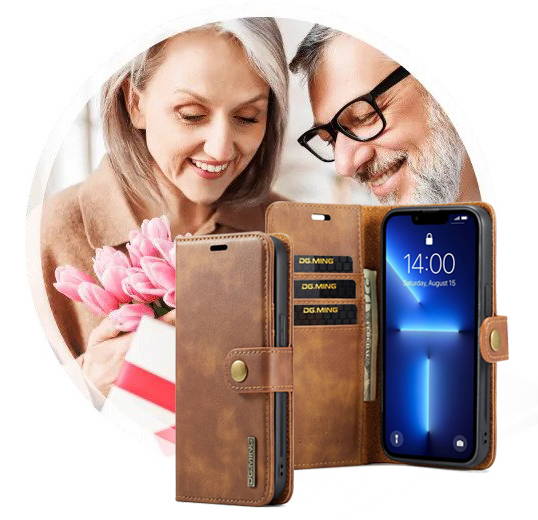 Detachable (2in1) Split Wallet iPhone Case in this classic cover allows you to carry your things made by premium selected vegan leather. This case features 2-in-1 design with a split leather wallet cover and a detachable leather coated back shell, which can be attached together by magnetism.
Powerful magnetic back cover. Perfect combination of style and durability.
Minimalist design flip leather case ultra slim & lightweight
Anti-dust, shockproof, sand-proof case that keeps your phone from scratching and bumps
What Our Customers Are Saying
"10/10 recommend! It works as it is suppose to, so easy to lay in bed and scroll w push button instead of co stand finger swipes which are so annoying when you are comfortable after a long day and just want to veg. It forwards, reverses, pauses, dbl click to like a video. It is a guilty pleasure, I am not a gadget person but i had to have this and i love it."
"I love these bulbs, had to use them twice since purchasing them due to storm power outtage...while the neighbors lit candles an had lanterns they wondered how i had working lamps so i told them about these awesome bulbs. I bought the 4 pack but had 1 before that and i sur was impressed with them. You don't have to put them in lamps, the work just on their own...bravo to whomever invented them! Good to have around believe me."
"I like this little crystal lamp. It reminds me somewhat of a solar light, but with a lamp shade and a square base. It doesn't take up a lot of space. You can still use it while it's charging, so if the battery runs out you still have a light! My 4 year old is fascinated with this and says it's her lamp. It's bright enough to light up an area of a room, but without giving off too much light. Perfect for a child's night light, but more reach. It has warm light settings and is not distracting. I have used this every night since purchasing. It's a keeper for me. I may purchase another one."
"This thing is great. You can adjust where it's projected so items on a shelf or dresser aren't in the way. The stars can be intense when going to sleep, but if you hold the "star" button on the remote, you can turn them off and just use the nebula, which has multiple color options. We use it as a night light for our 4 year old. I love it, she loves it. She doesn't get tired of it because of all the different color and star options. It's such a hit, I need to get another for my niece. The space man is a nice touch, too!"